Colantotte's new TAO range incorporates revolutionary technology, style and fashion. This new technology positions a multitude of 550 Gauss magnets throughout the entire soft resin loop of the necklace. The magnets are created with Trion:Z and Colantotte's original technology which uses a unique Alternating North-South Polarity Orientation that increases the penetration of the magnetic field.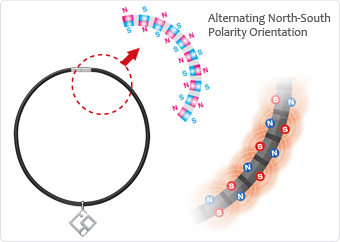 Pendant and clasp: 316L Stainless Steel
Magnets: Ferrite permanent
Neck loop: Soft resin
Colour: black
Made in Japan.
I Class Medical Device.