Women back support with visco-elastic lumbo-sacral pad Select Stabilo Bort medical
With visco-elastic lumbo-sacral pad. Three anatomically pre-moulded splints in the dorsal area. Easy to put on using the hand straps provided.Cross strap system for additional stabilisation and relief.
BORT Select Stabilo Back Support with Pad - women design. This medical device is a brace with a back pad and tension elements for stabilising the lumbar spine.
Height: ventral 17 cm (6.7 inches), dorsal 26 cm (10.2 inches).
Indications:
treatment of increased pain in the lumbar spine,

severe low back pain,

recurrent low back pain,

osteochondrosis,

spondylarthrosis,

mild lumboischialgia,

mild radicular syndrome,

spondylolysis without spondylolisthesis,

mild to moderate lumbar deformity (degenerative spondylolisthesis),

after inter-vertebral disc surgery.
Contraindications:
unclear soft tissue swellings,

impaired sensation and circulation in the specific body region,

skin diseases in the specific part of the body,

latex allergy.
Colour: black
Made in Germany.
Please note, that we always aim to have product  in 10 days. If you have any question please fell free to write to us: : info[at]e-medicalbroker.com
Use it according to the instructions for use or label.
| Size | Circumference of waist in cm |
| --- | --- |
| 1 | 70 - 80 |
| 2 | 80 - 90 |
| 3 | 90 - 100 |
| 4 | 100 - 110 |
| 5 | 110 - 120 |
| 6 | 120 - 130 |
| 7 | 130 - 140 |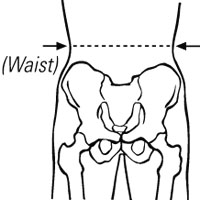 1 cm = 0,3937 inch