Back support for pregnant women Bort
88,00 EUR
Elastic back support for relief of lumbar spine and to support the abdomen:
Individual adjustment of width using flexible adjustable straps

Thin spring rods for stabilisation of the lumbar region

Dorsal height: 21 cm (8.3 inches)
Colour: white
Med Benefits:
No risk to baby and abdomen

Adaptable to varying abdominal circumferences
Indications:
For stabilisation of lumbar spine with metered pressure during pregnancy,

For the treatment of pain in the lumbar area.
Back support for pregnant women, with lateral spring splints and straps for stabilisation and relief in the back and abdominal area.
The back, abdominal and pelvic areas are relieved and supported; it exerts a pain reducing effect. Patient mobilisation is supported.

Instruction for use:
1. The brace should be applied while standing up.
2. Open all the Velcro straps and place the support around the hips.
3. Close the support across the abdomen.
4. At this point, pull the lateral straps to the front and fasten them so that noticeable relief in the back and abdominal area can be felt.
Composition:
60 % Polyamide, 14 % spandex, 11 % PUR foam, 10 % polyester, 5 % viscose

Contraindications:
Peripheral arterial disease (PAD), lymphatic drainage disorders and indistinct soft tissue swellings remote from the applied aid, sensory loss and blood flow disorders in the affected body part, skin disorders in the treated part of the body.

Important instructions:
No reutilisation – this medical device is meant for the care of one patient only. In case of doctor's order to wear support during night, avoid hindering blood circulation. In case of numbness loosen support and remove it if necessary. If complaints continue, please contact the doctor. While wearing the support do not use creams or ointments. This can damage the material.
| Size | Circumference of pelvic |
| --- | --- |
| XS | 75 - 91 cm |
| S | 91 - 105 cm |
| M | 105 - 119 cm |
| L | 119 - 140 cm |
2019-06-07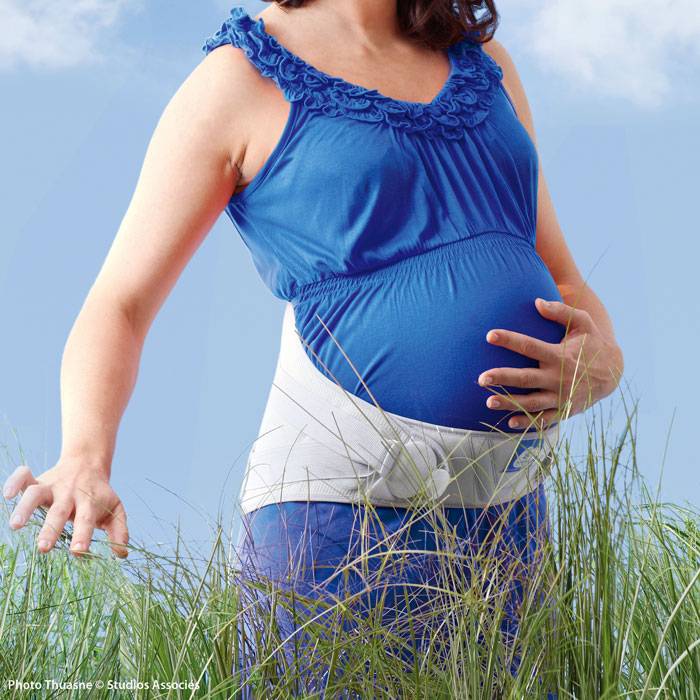 Half of all pregnant women complain of pain in their lower back and pelvis. This "lumbar and pelvic" pain is related to the physiological changes that occur during pregnancy. They are not serious but can make everyday activities and rest uncomfortable or difficult.