Diabetic insole footsupport Comfort Pro medi
Integrated metatarsal pad for support of the transverse arch.
Size: EU shoes sizes.
The Comfort insole has been specially developed for feet that requireextra cushioning such as diabetic or arthritic feet.
Benefits:
Pre-smoothed foundation for an individual fit

Antibacterial bottom cover for a pleasant foot climate

Multi-layered construction for a soft cushioned footbed

Light core for support of the longitudinal arch

Integrated metatarsal pad for support of the transverse arch(model Comfort pro only)
Indications:
diabetes

arthritis

cornea skin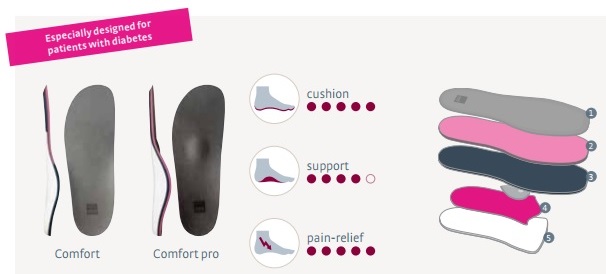 Materials:
1. Top Velours, black / grey 0,4 / 0,7 mm
2. PPT 15°, magenta 3,0 mm
3. Top Foam 25°, blue 3,0 mm
4. THK
5. Top Forte 45°, white 10,0 mm
---
The medi footsupport product range consists of various insoles fordifferent application fields. Due to material composition andconstruction, each insole has different cushioning and supportingproperties. Insoles for medical indications like arthritis, plantarfasciitis or hallux rigidus can help to reduce the pain.
Cusion:
The cushioning properties of the insole protect thefoot from pressure points and offer targeted relief forspecific areas of the foot.
Support:
The supporting function of the insole offers relief tospecific areas of the foot, improves the gait properties,and helps to stabilize the joints.
Pain relief:
The design of the insole and the combination offunctional materials help to reduce pain.
Technical information:
Several medi footsupport insoles can be custom fit using heat. The core can be heat molded by referring to theguidelines listed below with the help of a hot air gun and using heat gloves. Please note the followinginformation for thermoplastic formability of each model:
Can be modified at select locations using a heatsetting between 100-120 °C (200-250 °F:

medi footsupport Junior


medi footsupport Active 

medi footsupport Comfort 

medi footsupport Comfort pro 

medi footsupport Business

medi footsupport Business slim

medi footsupport Natural


not heat moldable:


medi footsupport Heel Spur
medi footsupport Heel Spur pro
medi footsupport Control
medi footsupport Control slim
Use it according to the instructions for use or label.