Otto Bock Xeleton Ligament Knee Brace for Ski & Sports, long version
400,00 EUR
Xeleton hard frame knee orthoses stabilise the knee joint following cruciate ligament injuries. Excellent stability and robust construction.This new knee stabilisation orthosis combines stability with good user-friendliness with robust construction. The close-fitting frame is made of a high-strength aluminium alloy and has sturdy guide loops to ensure safe support in every situation. Julia had a climbing accident a year ago and tore her posterior cruciate ligament, and still wears her orthosis when she places her knee under particular pressure.High performance functionality.
Two versions – standard ( Body height less than 1.83 m) or long  (Body height more than 1.83m) – ensure optimal fit for any height.
Easy to slip on, the Click-2-Go system allows the range of extension and flexion to be adjusted easily and without any tools. 
"Xeleton" – the X stands for the cruciate ligament – has a "skeleton fit" which is perfectly adapted to the body. 
Independently movable calf strap - The calf strap can move independently of the front straps, ensuring good support as well as being particularly patient-friendly.
Indications:
ACL and/or PCL rupture and reconstruction

 

Instability of the knee joint (ACL, PCL, MCL, LCL)
Collateral ligament injuries
Stabilisation and/or limitation of movement after meniscus surgery

 

Knee osteoarthritis
Rheumatoid arthritis
Mechanism
 Xeleton enable optimal care of the injured knee:
 

Guidance and stabilisation of the knee at all levels

Limitation of the anterior and/or posterior Draw test

Reduction of collateral instability

Adjustable limits of range of motion (ROM) in extension and flexion

Protection against hyperextension of the knee.
1. Click-2-Go system.
The innovative Click-to-Go system allows the required range of motion limits to be adjusted quickly and without tools. The knee width can also be adjusted just as easily, again without tools, for example to adjust the orthosis according to the level of swelling in the joint. In just a few simple steps, five millimetre wide spacers can be inserted into the joints.
Flexion: 6°/10°/20°/30°/45°/60°/75°/90°

Extension: 6°/10°/20°/30°/45°
2. Anatomically shaped shin pad.
The tibia area in particular can be very sensitive to stress. The strap below the knee therefore has a special anatomical pad to prevent pressure points on the shin. At the same time, this prevents undesired rotation of the orthosis.
3. Slim, lightweight design.
The orthosis can be worn comfortably and discreetly beneath clothing, thanks to its slim, close-fitting design. In addition, its low weight does not restrict the patient any more than necessary.
4. TechnoGel condyle pads.
The TechnoGel condyle pads with their skin-friendly fabric cover are made from a high-quality material that allows for optimal pressure distribution, while at the same time having excellent hygiene properties.
5. The frame is made from a high-strength aluminium alloy.
The frame's design offers optimal stability and torsional stiffness.
Made in Germany.
Incidence
Some 40% of all knee injuries involve ligament damage – two thirds of them ruptures of cruciate ligaments. Statistics show that the anterior cruciate ligament is affected ten times more often than the posterior cruciate ligament; 70% of injuries occur during sports involving running and just as many occur without any direct physical contact. Most patients are between 15 and 45 years old, with women having a significantly higher risk of suffering an anterior cruciate ligament rupture owing to anatomical, hormonal and neuromuscular factors. In Germany alone, 80,000 anterior cruciate ligament ruptures occur every year. Knee stabilising orthoses such as the Genu Arexa and the new Xeleton ensure optimal stability and a safe return to everyday activities, and are therefore a key component of successful treatment.
| Size | B - Thigh circumference in cm |
| --- | --- |
| XS Left | 33 – 39 |
| XS Right | 33 – 39 |
| S Left | 39 – 47 |
| S Right | 39 – 47 |
| M Left | 47 – 53 |
| M Right | 47 – 53 |
| L Left | 53 – 60 |
| L Right | 53 – 60 |
| XL Left | 60 – 67 |
| XL Right | 60 – 67 |
| XXL Left | 67 – 75 |
| XXL Right | 67 – 75 |
| XXXL Left | 75 – 81 |
| XXXL Right | 75 – 81 |
2017-08-09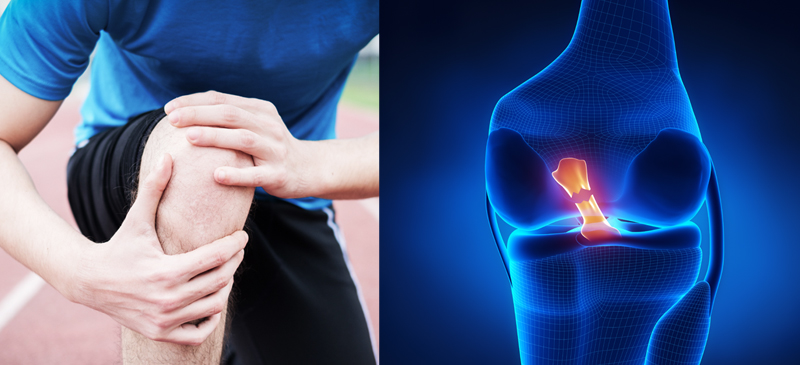 ACL ligament knee injury is serious and painful. Most people who have ever been injured in that way report that pain is unimaginable, and walking is impossible. How this dangerous injury occurs? What are acl tear symptoms and possible acl reconstruction methods? We will find answers for that questions in this article.