Brace for congenital malpositions of the foot.model left.
Attributes: 
Therapeutic bootee splint allowing accurate visual monitoring of correction (foot position).

Individual positioning of pressur points.
Correction pivot adapted to the shape of the foot.
Continuous adjustment of correction force.
Individual fit due to the thermomouldable material.

 

Models : right - left.
Size: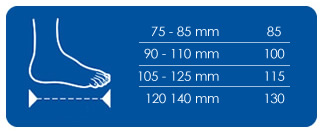 About Thämert
In 1919 Otto  Thämert founded a company specializing in the trade of foundationwear and bodices. With time the search and development of new products led to increasingly better results. The company started production of orthopaedic devices. The close cooperation with doctors and orthopaedic specialists led to numerous inovative products.
In the past 20 yearsThämert  had established lasting partnerships in the UK, USA, Sweden, France, Italy, and Spain.
In 2008 Thuasne acquired 100% of Thämert. Today Thuasne embodies the tradition and quality of two well-established companies with rich history.
| Size | Lenght - foot in mm |
| --- | --- |
| 1 | 75 - 95 mm |
| 2 | 90 - 110 mm |
| 3 | 105 - 125 mm |
| 4 | 120 - 140 mm |