Thämert Sohli®
Early treatment of talipes valgus in children by correcting the position of the calcaneum and providing oblique heel support without restricting the locomotor system.Sold in pairs.
Easy return of products within

14

days from the date of purchase without giving reasons
Free delivery from

75,00 EUR
Pre-order only.
SOHLI foot supports are soft flexible heel cups made of silicone. The foot contact area is covered with a textile layer providing more comfort and additional protection against the cup tearing.

Strong support at the Sustentaculum tali medially straightens the heel-bone. Combined with an adverse positioning in the heel contact area, SOHLI foot supports compensate for the pes valgus. The heel re-inforcement runs horizontally, the lateral space between foot and shoe is filled by an elastic support edge. The foot is firmly embedded and pain is eliminated.

Children free from pain are mobile. By frequent movement, the faulty development in the foot and leg muscles, caused by the pes valgus, will regress.
Slim sides, with no compression points.
Sold in pairs.
Size: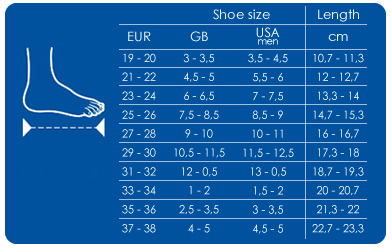 About Thämert
In 1919 Otto  Thämert founded a company specializing in the trade of foundation wear and bodices. With time the search and development of new products led to increasingly better results. The company started production of orthopaedic devices. The close cooperation with doctors and orthopaedic specialists led to numerous inovative products.
In the past 20 years Thämert  had established lasting partnerships in the UK, USA, Sweden, France, Italy, and Spain.
In 2008 Thuasne acquired 100% of Thämert. Today Thuasne embodies the tradition and quality of two well-established companies with rich history.
| Size | Shoe size EUR | Length in cm |
| --- | --- | --- |
| 1 | 19 - 20 | 10,7 -11,3 |
| 2 | 21 - 20 | 12 - 12,7 |
| 3 | 22 - 23 | 13,3 - 14 |
| 4 | 24 - 25 | 14,7 - 15,3 |
| 5 | 26 - 27 | 16 - 16,7 |
| 6 | 28 - 30 | 17,3 - 18 |
| 7 | 31 - 32 | 18,7 - 19,3 |
| 8 | 33 - 34 | 20 - 20,7 |
| 9 | 35 - 36 | 21,3 - 22 |
| 10 | 37 - 38 | 22,7 - 23,3 |