"Childproof" thigh cuff closure.
This offer is addressed to Klents who have a SWASH brace and want to replace damaged or too small thigh cuffs
Thigh cuffs themselves do not fulfill any function.
Choosing the correct size is extremely important - the measurement should be made by medical personnel.
Size chart: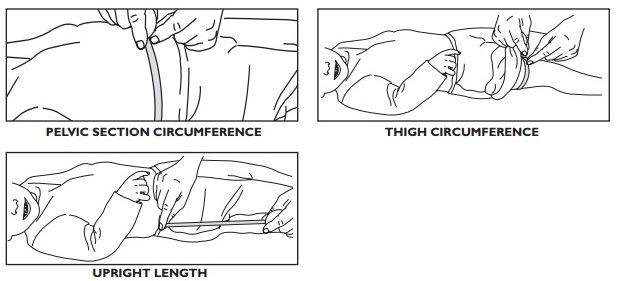 | Size | Thigh cuffs |
| --- | --- |
| 2 | 250-290mm / 9 3/4-11 1/2in |
| 3 | 290-330mm / 11 1/2-13in |
| 4 | 330-380mm / 13-15in |
PELVIC SECTION
Measure:
SWASH CLASSIC - At level of the (ASIS).
SWASH LOW PROFILE - At level between crest of ilium and ASIS. Ideal is to fit the orthosis at midpelvic girdle to obtain firm grasp and control of the pelvis. Depending on anatomy, final fitting location may vary from just below the waist (navel) to mid pelvic girdle.
THIGH CUFFS:
Measure at distal thigh, just proximal to the condyles. Ideal is to fit the cuffs as distal as possible without creating pressure or interference in the popliteal area. However, pressure on the thorax, excessive spinal flexion, or discomfort due to hamstring tightness, may be relieved by moving the cuffs up 1 - 3 inches.
UPRIGHTS
Measure waist to mid-patella. At final fitting, should be shortened to level of distal thigh cuff padding.
115 = narrow sitting base
123 = wide sitting base