Firm support for the thumb and wrist.X-ray transparent, adjustable stays.Palm support.Combined action of rigid supports and straps.
Indication
Mild sprains of the wrist and/or thumb (functional treatment).
 Severe thumb sprains and scaphoid bone fractures (postsurgery treatment).
Tendinitis and tendon disorders of the wrist and thumb.

 Inflammatory phases of rheumatic diseases.



Models: right - left.
Size: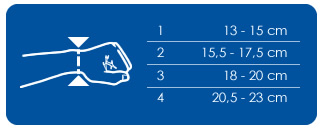 | Size | Wrist measurement in cm |
| --- | --- |
| 1 left | 13 - 15 cm |
| 1 right | 13 - 15 cm |
| 2 left | 15,5 - 17,5 cm |
| 2 right | 15,5 - 17,5 cm |
| 3 left | 18 - 20 cm |
| 3 right | 18 - 20 cm |
| 4 left | 20,5 - 23 cm |
| 4 right | 20,5 - 23 cm |