Available in CCL2 and CCL3 with open toe. You can choose between two length: normal (72- 83cm) or short ( 62-71cm). Colours: caramel, black.
NOTE: Please write all details in order:
side: left or right
Length: normal or short 
lG normal : 72 - 83 cm
lG short/petite: 62 - 71 cm
1cm= 0,3937 inch
Colour: caramel or black
Toe are always open.
Mediven forte - maximum pressure stability throughout the day, high operating pressure for deep effect and extreme durability.
Features:
In compression classes 2 and 3

Open toe

Colours: black, caramel

Patented Clima Fresh system for hygienic freshness in the leg section with antibacterial activity

Clima-Comfort for high breathability and reliable temperature control

The seamless two-way stretch stocking is highly elastic and slip-resistant.

Length measurements in cm A-G thigh: regular 72-83cm, petite 62-71cm
Explanation of compression classes:
CCL 2 Compression in mmHG 23.0 - 32.0 / Compression in kPa 3.10 - 4.30
CCL 3 Compression in mmHG 34.0 - 46.0 / Compression in kPa 4.50 - 6.10
Notice: There are circumstances, known as contraindications, in which compression stockings should not be worn, for example, in the event of arterial disease (high blood pressure, intermittent claudication). Only the doctor can decide on whether a medical compression stocking can and should be worn.
medi compression identifies selected high-tech products from medi in medicine, lifestyle and sports. medi stands for six decades of experience in research and development of products with compression – made in Germany.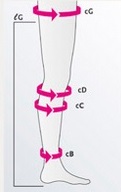 lG normal : 72 - 83 cm
lG short/petite: 62 - 71 cm
1cm= 0,3937 inch
Size chart
| Size | cB - above ankle | cC - calf | cD - below knee | cG - thigh |
| --- | --- | --- | --- | --- |
| 1 | 18 - 20 cm | 29 - 34 cm | 28 - 33 cm | 44 - 53 cm |
| 2 | 20 - 22 cm | 31 - 36 cm | 30 - 35 cm | 46 - 57 cm |
| 3 | 22 - 24 cm | 33 - 38 cm | 32 - 37 cm | 50 - 61 cm |
| 4 | 24 - 26 cm | 35 - 40 cm | 34 - 39 cm | 53 - 65 cm |
| 5 | 26 - 28 cm | 37 - 42 cm | 36 - 41 cm | 56 - 70 cm |
| 6 | 28 - 30 cm | 39 - 44 cm | 38 - 43 cm | 60 - 74 cm |
| 7 | 30 - 32 cm | 41 - 46 cm | 40 - 45 cm | 64 - 80 cm |
closed- small foot/ non returnable item
closed- big foot/ non returnable item
| Size | cA | cY | cB | cC | cD | cE | cF | cG |
| --- | --- | --- | --- | --- | --- | --- | --- | --- |
| 2 | 20 - 23cm | 29 - 32cm | 20 - 22cm | 31 - 36cm | 30 - 35cm | 33 - 40cm | 42 - 51cm | 46 - 57cm |
| 3 | 22 - 25cm | 31 - 34cm | 22 - 24cm | 33 - 38cm | 32 - 37cm | 36 - 42cm | 45 - 55cm | 50 - 61cm |
| 4 | 24 - 27cm | 33 - 36cm | 24 - 26cm | 35 - 40cm | 34 - 39cm | 38 -44cm | 48 - 58cm | 53 - 65cm |
| 5 | 26 - 29cm | 34 - 38cm | 26 - 28cm | 37 - 42cm | 36 - 41cm | 40 - 46cm | 51 - 62cm | 56 - 70cm |
| 6 | 28 - 31cm | 36 - 40cm | 28 - 30cm | 39 - 44cm | 38 - 43cm | 42 - 48cm | 54 - 67cm | 60 - 74cm |