Compression pantyhose CCL1 Mediven Comfort
Appropriate for all seasons. Semi-transparent fabric to mask blemishes.
Compression classes:
light compression / CCL 1 compression class (18.0 - 21.0 mmHg / 2.40 - 2.80 kPa) *
average compression / CCL 2 compression class (23.0 - 32.0 mmHg / 3.10 - 4.30 kPa) *
* -Choosing the right degree of compression - Product compression class - Always consult your doctor
Indications:
Mild to moderate spider veins.
Slight to severe varicose veins.
Mild to moderate edema.
Tired, achy, heavy legs.
Helps prevent deep vein thrombosis (DVT).
Features:
Comfortable, patented Clima-Comfort releases moisture for temperature control.
ClimaFresh technology inhibits bacteria growth and unpleasant odors.
Semi-transparent fabric to mask blemishes.
Appropriate for all seasons.
Compression tights represent a basic therapy for patients with or at risk of varicose veins, this type of support tights may be recommended by a doctor. They offer a beneficial treatment for venous disorders especially during pregnancy to prevent fluid build-up in the ankles. Manufactured in a circular (or round) knit fashion, these garment looks like normal opaque stockings, but they offer an effective firm support that improves venous circulation. There are many reasons why wearing medical compression is recommended. 
mediven maternity compression tights offer a soft panty section which grows with the tummy throughout all three trimesters of your pregnancy with minimum compression for maximum comfort. You look after your growing baby and medi will look after your ankles and legs. A doctor can decide on the use of medical compression tights and look at possible contraindications, reasons why they may not be appropriate. 
Early development of swelling, (mild swelling) will also benefit from this type of compression, as would aching legs from varicose veins. Pregnancy can also be the pre-cursor to developing varicose veins due to the weight of the growing abdomen on the legs. mediven compression garments can prevent these conditions getting worse, alleviate the ache and prevent fluid build-up in the ankles. Compression is also effective during pregnancy as it improves the venous circulation in the mother to be, and also improves the circulation to the growing baby.
All our mediven range of compression are latex free, making them safe, skin friendly and easy to clean (washing machine and tumble drying). mediven fabrics use modern technology and therefore they offer wicking properties – this ensures you feel warm in the winter and cool in the summer. 
The concept of graduated compression hosiery is such that hosiery should be knitted to apply an ever decreasing pressure from the ankle to the thigh, or in the case of below knee hosiery, from the ankle to the knee. The degree of this graduation is laid down in the RAL standard or Hohenstein tested hosiery and British Standard BS 6612:1985. There are slight differences between the graduation requirements on the two specifications. This guarantees safe, comfortable and therapeutic compression for use during exercise or even when relaxing and is worn during the day and removed at night (unless otherwise directed by the Specialist).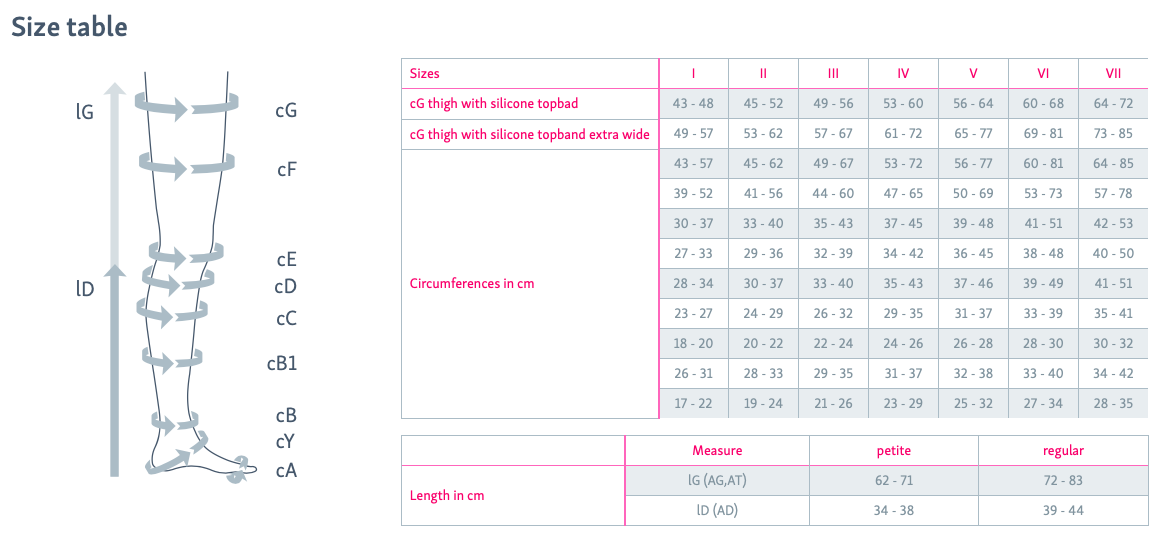 Use it according to the instructions for use or label.
| Size | cA | cY | cB | cC | cD | cE | cF | cG |
| --- | --- | --- | --- | --- | --- | --- | --- | --- |
| 1 | 17-22cm | 26-31cm | 18-20cm | 28-34cm | 27-33cm | 30-37cm | 39-52cm | 43-57cm |
| 2 | 19-24cm | 28-33cm | 20-22cm | 30-37cm | 29-36cm | 33-40cm | 41-56cm | 45-62cm |
| 3 | 21-26cm | 29-35cm | 22-24cm | 33-40cm | 32-39cm | 35-43cm | 44-60cm | 49-67cm |
| 4 | 23-29cm | 31-37cm | 24-26cm | 35-43cm | 34-42cm | 37-45cm | 47-65cm | 53-72cm |
| 5 | 25-32cm | 32-38cm | 26-28cm | 37-46cm | 36-45cm | 39-48cm | 50-69cm | 56-77cm |
| 6 | 27-34cm | 33-40cm | 28-30cm | 39-49cm | 38-48cm | 41-51cm | 53-73cm | 60-81cm |
| 7 | 28-35cm | 34-42cm | 30-32cm | 41-51cm | 40-50cm | 42-53cm | 57-78cm | 64-85cm |
Circuits:
cB - above the ankle at the narrowest point
cC - calf at the widest point
cD - below the knee about 4 cm below the kneecap
cG - thigh at its widest point, approx. 3 cm under the fold of the buttock
cH - hips in a lighter place
cT - waist