medi travel socks for women, normal/ regular length 43 cm - 49 cm
34,00 EUR
The lack of physical exercise during a journey exerts constant high pressure on the venous system. The venous valves no longer close perfectly and the blood circulation slows down. The legs become heavy and tired – in the worst case, traveller's thrombosis may develop. medi travel socks have been specially developed to keep the veins in shape during long periods of sitting or standing. They support the natural blood circulation, so the blood flows back to the heart against gravity instead of pooling in the legs.
Features:
Controlled pressure gradient, decreasing upwards.

Knee stocking in semitransparent-look.

Can reduce the risk of traveller's thrombosis

Climafresh-System: prevents colonisation by micro-organisms and bacteria on the leg and foot – perfect for sustained use.

Clima-Comfort technology: for reliable wicking of moisture from the skin through the stocking to the outside.

Can be machine washed and tumble dried.

Toe: closed
Product is available in women and men version.
When selecting the size of a travel stocking, the ankle circumference is the decisive measurement, not the shoe size.
Material Composition: 25 % Elastane, 75% Polyamide
Men colours: black, grey
Women colours: black, powder
You can choose between two lengths: normal or short.
Lengths:
short: 37 - 42 cm
normal: 43 - 49 cm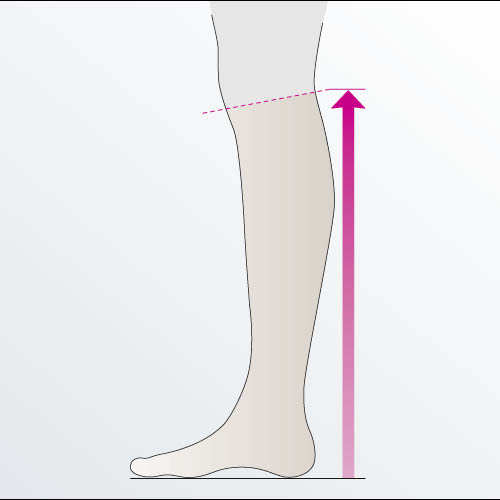 The medi compression seal identifies selected high-tech products from medi in medicine, lifestyle and sports. medi stands for six decades of experience in research and development of products with compression - made in Germany. The manufacturing process provides accurately dosed compression on the body – for demonstrably positive effects on health, performance and well-being.
medi. Made in Germany.
| Size | Ankle circumference |
| --- | --- |
| S | 18 cm - 20 cm / 7¼ -  8 |
| M | 20 cm - 23 cm / 8 - 9 |
| L | 23 cm - 26 cm / 9 - 10 ¼ |
| XL | 26 cm - 29 cm / 10¼  - 11½ |
| XXL | 29 cm - 32 cm / 11½ - 12½ |