Basic is a high quality, long lasting and reliable suction pump
In box:
1 Basic mobile version suction pump,
1 x 2l autoclavable PSU suction canisters and lids with integrated overflow protection,
5 x filters,
2 m tubing.
Suction pumps are used during and after surgery to remove surgical fluids, tissues (including bones), gases or bodily fluides of the patient. The high quality vacuum technology has been designed to deliver a reliable build up of suction power. Suction pumps are being used for general surgery, liposuction, neurosurgery and endoscopy. Quietness and easy handling are also important aspects for daily use in hospitals.
Medela has suction pumps for all applications. A wide range of accessories is perfectly designed to fit the pumps and make them compatible for any desired task. They can be used in operating theatres, intensive care units and emergency wards
The Basic is ideal for endoscopy, in the ENT area, on the hospital ward, in the operating theatre and in the emergency department. The Basic  features rapid vacuum build-up, high suction performance, quiet operation and compact design.
The Basic  provides reliable suction for multiple applications in a variety of settings: medical practices, hospital wards, operating theatres and emergency departments and delivery suites.
Basic 30 provides a rapid vacuum build-up to deliver high suction capacity at all times.
Basic provides a working environment that allows for concentration because of its low noise level. Basic can be combined with many Medela accessories, allowing the user to adapt the pump to specific needs.
 
Technical data
Flow: 30l/Min.

Vacuum: -85 kPa/ -638 mmHg

Warranty: 

5 years
Vacuum is created within seconds, which makes Basic 30 suitable for applications that demand rapid suction. Nevertheless, the low speed of rotation of the piston-cylinder helps to keep the noise level down during surgical applications.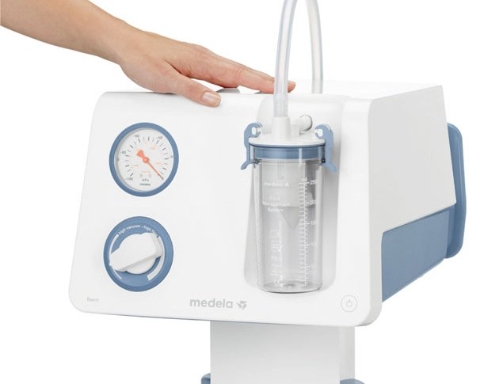 The compact design and smooth edges facilitate cleaning efforts. The safety set in front prevents overflow and contamination within the pump, maintaining hygiene.