The flat design of the F.O. blade improves visibility considerably and simplifies intubation.
Features:
Prevention of cross contamination.

Made of high quality Makrolon® material.

High illumination, especially in combination with LED.

No sterilisation costs.

Compatible with F.O. handles (green standard).

Metal ball lock mechanism.
Available as Macintosh and Miller
Riester. Germany.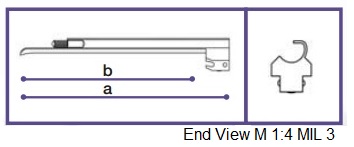 | | | | | |
| --- | --- | --- | --- | --- |
|  Blade ri-dispo | a-length | b-length |  width at the distal end |  Order numbers |
|   |   |   |   |   |
| MIL 0 | 81 mm | 56 mm | 11 mm | 12294 |
| MIL 1 | 105 mm | 80 mm | 11 mm | 12295 |
| MIL 2 | 155 mm | 131 mm | 14 mm | 12296 |
| MIL 3 | 196 mm | 171 mm | 14 mm | 12297 |
| MIL 4 | 210 mm | 188 mm | 14 mm | 12298 |