Diagnostic set e-scope otoscope with direct illumination / ophthalmoscope Riester
Inexpensive basic model with low-reflection direct illumination with a 2.7 V vacuum bulb (2500 K).
E-scope® otoscope with direct illumination: Minimised-reflection, economically priced direct illumination with  2.7 V vacuum illumination.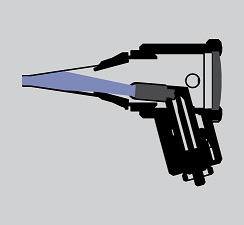 Features & Benefits of otoscope:
Sealing precision optics pivotable to both sides with triple magnification for optimum view.

Sturdy ear speculum receptacle in hardwearing hygienic metal for e-scope®/ri-scope® L1/L2 speculum.

Compatible with ear speculae from other renowned manufacturers.

Suitable for performance of pneumatic tests (supplied without connector and insufflator.
e-scope® ophthalmoscope  with vacuum  illumination:
Dioptre disc with 18 corrective lenses (+/- 1, 2, 3, 4, 6, 8, 10, 15, 20 dioptres),

Easy-to-use aperture wheel with six different apertures (fixation star, large circle, small circle, red free filter, blue filter, semi circle),

High performance optics with aspherical condenser lensSpectacle protection,

Parallel optical path,

Dust-protected.
Kolor: white or black.
E-scope® otoscopes and ophthalmoscopes are available  in a space-saving bag.
Made in Germany.
---
Continuous improvement has always been Riester's claim. With the new e-scope®, a further step has been successfully taken towards optimum illumination, environment-friendliness and profitability.
3.7 V LED illumination and conventional alkaline batteries – an almost impossible combination up to now. Not just pie in the sky, but state of the art. The new e-scope® is the perfect blend of leading-edge LED technology, more efficient diagnosis and an environment-friendly energy source. Because the e-scope® breaks new ground with its world innovation, the IPC (Integrated Power Converter): younger, smarter and greener.

Use it according to the instructions for use or label.