Otoscope E-SCOPE with direct illumination XL 2.5V Riester
Inexpensive basic model with low-reflection direct illumination/
E-scope otoscope with direct illumination.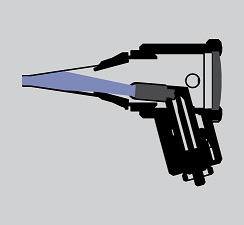 Features & Benefits:
Sealing precision optics pivotable to both sides with triple magnification for optimum view.

Sturdy ear speculum receptacle in hardwearing hygienic metal for e-scope®/ri-scope® L1/L2 speculum.

Compatible with ear speculae from other renowned manufacturers.

Suitable for performance of pneumatic tests (supplied without connector and insufflator.
Kolor: white or black.
Made in Germany.
---
Continuous improvement has always been Riester's claim. With the new e-scope®, a further step has been successfully taken towards optimum illumination, environment-friendliness and profitability.
3.7 V LED illumination and conventional alkaline batteries – an almost impossible combination up to now. Not just pie in the sky, but state of the art. The new e-scope® is the perfect blend of leading-edge LED technology, more efficient diagnosis and an environment-friendly energy source. Because the e-scope® breaks new ground with its world innovation, the IPC (Integrated Power Converter): younger, smarter and greener.

Use it according to the instructions for use or label.