3M Littmann® Master Cardiology Stethoscope 2178 , caribbean blue tube
Durable and top-performing with a hand-built stainless steel chestpiece and tunable diaphragm.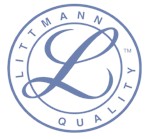 Easy return of products within

14

days from the date of purchase without giving reasons
Free delivery from

75,00 EUR
Reward your achievement with the unmistakable mark of distinction – a 3M™ Littmann® Master Cardiology™ Stethoscope. This top of the range non-electronic stethoscope offers you the quality and durability you've come to expect from 3M.
Features & Benefits:
Tunable diaphragm allows the user to conveniently alternate between the low- and high-frequency sounds without turning over the chestpiece.

Handcrafted solid stainless steel chestpiece.

Dual-lumen design eliminates tube noise artifact from two tubes rubbing together.

Portable convenience of a single-sided chestpiece.

Excellent acoustic seal and comfortable fit with patented 3M™ Littmann® Snap Tight Soft-Sealing Eartips.

Comfortably angled, anatomically correct headset. This assures a proper fit, minimizes air leaks and prevents the headset from loosening over time. Double-leaf binaural spring allows easy adjustment of ear tube tension.

Patient-friendly, nonchill rim and diaphragm. Special procedures adaptor for difficult site or paediatric auscultation.

Convenience is offered through 3M's 'tunable technology' which allows you to hear low and high frequency sounds simply by applying light or firm pressure to the chestpiece.

You won't hear unwanted "rubbing noises" with its clever design. One tube contains two parallel sound channels intended minimise extraneous noise.

Allows you to perform neonatal or paediatric auscultation with a special-procedures adaptor included with stethoscope purchase.

Suit your style by selecting a tube colour and chestpiece finish that fits you. A large variety is offered.

Expect peak performance with a 10 rating on a 1-10 performance scale.
Made in the U.S.A.
Specifications:
Applications: Cardiology/High Performance

Chestpiece Finish: Polished stainless steel

Chestpiece Technology: Single sided

Diaphragm Diameter: 4.4 cm

Diaphragm diameter (imperial): 1.75 Inch

Diaphragm Material: Epoxy/Fiberglass

Diaphragm Type: Tunable Diaphragm

Eartip Type: Soft Sealing

Extra Eartips: Yes

Headset Material: Wide diameter aerospace alloy / Anodized aluminum

Length: 27 Inch

Length (Metric): 69 cm

Model: Master Cardiology

Net Weight: 185 g

Net Weight (Metric): 185 g

Occupation: Anesthesiologist, Cardiac Nurse, Cardiologist, Clinical Nurse Specialist, Critical Care Nurse, Emergency Physician, EMT/EMS, ER Nurse, Family Practitioner, Gastroenterologist, Hospitalist, Intensivist, Internist, Medical Student, Neurologist, NICU Nurse, Nurse Anesthetist, Nurse Practitioner, Obstetrician, Physician Assistant, Pulmonologist, Respiratory SpecialistPatient Adult, Infant, Paediatric

Performance: 10

Product Family: Cardiology Stethoscopes

Product Line: Mechanical Stethoscopes

Special Adaptors: Yes
Warranty Period: 7 years