The 22K Gold Edition Classic Cardiology is the ultimate diagnostic instrument with unmatched performance, durability, and aesthetics.
Constructed from gold-plated premium-grade acoustically-superior stainless steel, the MDF® Classic Cardiology™ Stethoscope > 22K Gold Edition delivers accurate auscultation of heart, lung, and Korotkoff sounds with acoustic integrity and clarity. An ergonomic design ensures comfort for the doctor and patient, even during extended use. The 22K Gold Edition Classic Cardiology™ is the ultimate diagnostic instrument with unmatched performance, durability, and aesthetics. With its extra-deep cone-shaped bell and ultrasensitive diaphragm, this cardiology stethoscope detects the entire frequency range required by cardiologists.
Colour: NoirNoir
The handcrafted gold-plated stainless steel dual-head chestpiece is precisely machined and hand polished for the highest performance and durability. The patented full-rotation acoustic valve stem features SoundTight™ GLS technology to seal in sound, and the green indicator dot allows the user to easily identify the active sound channel. The chestpiece is fitted with an ultrasensitive diaphragm sealed with a non-chill retaining ring to provide a secure acoustic transmission for heart and lung sounds of 100Hz to 1000Hz. The extra-large cone-shaped bell, crowned with a non-chill bell ring, provides greater sound amplification, isolation of low frequencies (20Hz to100 Hz), and patient comfort.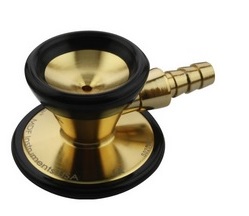 Hand polished, pre-angled stainless steel headset features a patented internal dual-leaf spring construction for durability industry in user safety. Patented SafetyLock  eartip adaptors lead the industry in user safety.
Constructed of thicker, denser, latex-free PVC, the dual-lumen non-stick acoustic tubing ensures sound efficiency, provides insulation for superior sound transmission, and seals out ambient noise while preventing the cracking and wearing that can occur from repeated use. The longer-than-average length allows a comfortable space between health professional and patient.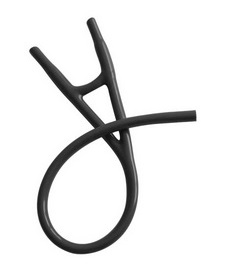 In box:
2 extra sets ComfortSeal™ eartips, spare ultrasensitive diaphragm, and ID tag.
Because it is handcrafted to the highest standards of quality, this entire MDF® stethoscope (including the tubing) is covered by a lifetime warranty.
General Safety:
This MDF® stethoscope is designed exclusively as a non-invasive medical auscultation instrument to detect heart and lung sounds on healthy skin around the external thoracic region. Due to its sound amplification function, it may cause damage to user's ears if used other than its intended medical diagnostic purpose. Use only if you are a medical professional and do not leave stethoscope unattended around children.
General Usage:
MDF® stethoscope with ErgonoMax™ headsets are ergonomically pre-angled. Models with AccuFit™ headsets are anatomically adjustable for best fit, comfort, and sound transmission. A headset adjusted to a 15° forward angle is standard, and should be worn with the eartips pointed away from you if it is held directly in front of you. The dual-head chestpiece contains a diaphragm side for detecting high-frequency sounds, and a bell side for detecting low-frequency sounds. According to the auscultation need, simply turn the fully-rotational acoustic valve stem to select the proper side of the chestpiece. Hold the chestpiece firmly against the desired auscultation location on the patient's external thoracic region. Prior to each use, make sure all parts are securely fastened and properly connected.
General Cleaning & Care:
Clean stethoscope thoroughly before each use. Use clean cotton cloth or swab and isopropyl alcohol solution to cleanse all soiled parts. Avoid prolonged exposure of acoustic tubing to excessive heat, cold, solvents, moisture and oils/lipids (secreted by human skin).