Two separate air chambers provide greater stability and pressure redistribution for buttocks and Ischial
Tuberosities. Air cushion enhances capillary function.
Product is made in factory within 3 working weeks.
Trulife pillow is non returnable.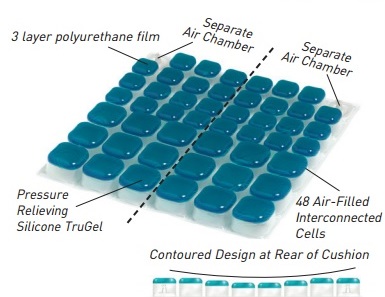 Features & Benefits:
The 48 cells are split into two separate air chambers allowing the air pressure to be adjusted differently on either side of the cushion, each cell is covered with a layer of silicone TruGelThe action of the air in the cushion enhances capillary function in the skin, maintaining blood flow and oxygen uptake.

Gel cushions ensure enhanced pressure re-distribution and also have a positive effect on skin temperature management whilst minimizing the effects of shear forces.

The cells are contoured towards the rear making the G2 the perfect all round pressure relieving and positioning cushion.

When pressure is applied, air circulates to each of the cells, distributing weight evenly. This process reduces high pressure concentrations around bony prominences, preventing skin breakdown.

The Gelcell G2 is made up of 3 layers of polyurethane (pu) film giving a total thickness of 1mm approx making it highly durable and difficult to burst.

Clear protective pu film coating is easy to wipe clean and is suitable for incontinent users.

Lightweight and easy to transport.

Easy to inflate and adjust.

Includes outer cover and pump.

Height: 4cm/  1.5"
Weight limit: 130kgs/ 287 lbs
Size: Width x Length.

14'' x 14'' non returnable item
RG005-1414
15'' x 15''/ 38cm x 38cm - non returnable product
RG005-1515
16'' x 16''/ 40cm x 40cm - non returnable product
RG005-1616
16'' x 18''/ 40cm x 45cm - non returnable product
RG005-1618
17'' x 17''/ 43cm x 43cm - non returnable product
RG005-1717
18'' x 16''/ 45cm x 40cm - non returnable product
RG005-1816
18'' x 18''/ 45cm x 45cm - non returnable product
RG005-1818