Trulife Relax Gellcell wheelchair cushion
300,00 EUR
Product is made in factory within 3 working weeks.
Trulife pillow is non returnable.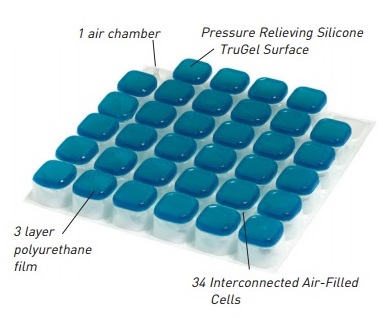 Features & Benefits:
Unique combination of AIR and GEL technology effectively provides pressure relief and comfort to the high risk user,

34 interconnected air-filled cells, each covered with a layer of pressure relieving silicone-based TruGel,

The action of the air in the cushion enhances capillary function in the skin, maintaining blood flow and oxygen uptake,

Gel cushions ensure enhanced pressure re-distribution and also have a positive effect on skin temperature management whilst minimizing the effects of shear forces,

When pressure is applied, air circulates to each of the cells, distributing weight evenly, thus reducing high pressure concentrations around bony prominences,

The Gelcell is made up of 3 layers of polyurethane (pu) film giving a total thickness of 1mm approx making it highly durable and difficult to burst,

Clear protective pu film coating is easy to wipe clean and is suitable for incontinent users,

Lightweight and easy to transport,

Easy to inflate and adjustIncludes outer cover and pump.

The weight limit for GellCell cushion is 130 kg / 287 lbs.

Height: 5cm.
---
Prevention is Better than Cure
 Pressure sores are areas of damaged skin and tissue that develop whenprolonged periods of uninterrupted pressure cuts off the circulation tovulnerable parts of the body. Without adequate blood flow, the affectedtissue dies. 
People who are most vulnerable to the onset of pressure sores includethose living with paralysis or using a wheelchair and any person withimpaired mobility sensation.
1. "Pressure sores can develop quickly, progress rapidly and are oftendifficult to heal. Yet health experts say many of these wounds don'thave to occur. Key preventive measures can maintain the skin'sintegrity and encourage healing"
Aside from causing serious discomfort to the sufferer and distress to thecarer, the cost of treatment can be debilitating to the healthcare industry. In the US  2."the mean length of stay for hospitalizations specifically forpressure sores was 13 days, and the average charge was nearly $37,800"
3. "An estimated 2 million adult workdays are lost each year because ofchronic ulcers. The cost to manage these ulcers is excessive. Althoughthe direct cost to heal pressure ulcers is elusive, the national cost isestimated at between $1.68 billion and $6.8 billion annually."
The Relax range offers a wide variety of pressure relieving cushions forwheelchair users and people of restricted mobility who are at increasedrisk of developing pressure sores. The range has been designed to re-distribute weight and provide exceptional pressure relief and optimumcomfort at an affordable cost, bringing a better quality of life to the user.