Knee bandage for soft tissue compression
This version has got additional straps.
You can also see version without it - Genumedi.
Indications:
slight instability of the knee joint,
patello femoral pain syndrome,
damage to the meniscus,
osteoarthritis and arthritis,
patella chondroplasty,
chronic post - operative and post-traumatic inflammation,
articular effusions and swellings,
Features:
highly elastic, breatheable and moisture - transporting Clima Comfort fabric,
non-slip system with textures silicone running medially and laterally,
specially designed silicocne ring enclosing the patella,
Mode of action:
the seamless, tailored knee support improves prorioception and improves musculat support ( stabilisation of the knee),
the massage effect achieved by the compressive fabric and silicone insert improves the blood circulation and aids absorption of haematomas and oedemas.
Made in Germany
| Size | D circumference in cm | F circumference in cm |
| --- | --- | --- |
| 1 | 25 - 28 | 37 - 40 |
| 2 | 28 - 31 | 40 - 43 |
| 3 | 31 - 34 | 43 - 46 |
| 4 | 34 - 37 | 46 - 49 |
| 5 | 37 - 40 | 49 - 52 |
| 6 | 40 - 43 | 52 - 55 |
| 7 | 43 - 46 | 55 - 58 |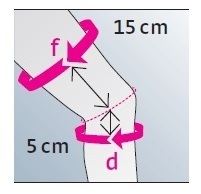 Size chart:
F - Circumference of thigh 15 cm above the centre of the patella ( measured at the medial side of the thigh)
D - Circumference 5 cm below the centre of the patella ( measured at the medial side of the lower leg)