Orliman Pavlik Harness - Hip Dysplasia Brace for Babies
88,00 EUR
Orthosis for patients up to two years old featuring straps and a bib made from velour and booties made from thermoformed velour.
Indications:
Hip dysplasia. 

Dysplastic, dislocatable or unstable hips in the first months of life. 

Subluxations. 

As a complement to other orthopaedic or surgical treatments.
Features & Benefts:
The straps that pass over the shoulders are padded with neoprene to protect the baby's shoulders from chafing and the bib can be adjusted by means of Velcro fasteners. 

Pastic buckles that enable the orthosis to be fitted and removed quickly and easily. 

The length of the straps can be adjusted to the characteristics of each patient.
Orliman.Spain.
Note: Product available only by pre order - shipping within 14 working days.
| Size | age |
| --- | --- |
| 1 | nowborn |
| 2 | 9-24 months |
2017-05-11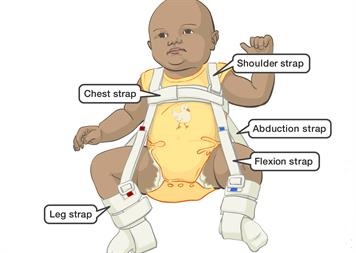 We are more and more sick nowadays. This is due to a lot of pollution in the contemporary environment, poor lifestyle and poor food quality. The health status of parents can have a significant impact on the health of their child. Unfortunately, often neglect during pregnancy results in abnormalities in the early life of the child. One of such disorder is dysplasia.