Orliman C-45 shoulder support - abduction brace (15°/30°)
Manufactured in breathable honeycomb fabric, which allows the free circulation of air to prevent possible irritation. Its design enables control of external rotation, which can be limited by means of the anti-rotational strap. The opening in the front pan
Manufactured in breathable honeycomb fabric, which allows the free circulation of air to prevent possible irritation. Its design enables control of external rotation, which can be limited by means of the anti-rotational strap. The opening in the front panel enables the patient to do elbow exercises.
Indications:
As an orthopaedic positioning method for sprains, luxation,glenohumeral subluxation.

Capsular displacement.As a conservative treatment for acute and chronic bursitis.

Rotator cuff repair surgery.

Shoulder endoprosthesis implantation.

Adhesive capsulitis.

Entrapment syndrome.

After arthroscopic treatment of Bankhart lesions.
Side - universal.
Hand exercise ball to maintain muscle tone in the hand and improve circulation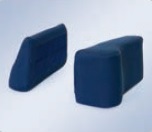 Foam abductor cushion with 15°/30° of abduction designed for the patient's maximum comfort.
Orliman.Spain.
Use it according to the instructions for use or label.
| Size | Forearm lenght as on the picture |
| --- | --- |
| S | <30 cm |
| M | 36 cm |
| L | <42 cm |