Wrist brace ligaflex classic Thuasne
Classic wrist brace with dual strap system ensuring even compression.Use of breathable materials (3D for better comfort).Palm support.
Indication
Mild sprains of the wrist (functional treatment).
Tendinitis and tendon disorders of the wrist.
Inflammatory phases of rheumatic diseases.



Models: right - left.
Size: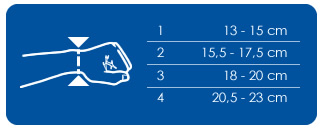 Use it according to the instructions for use or label.
| Size | Wrist measurement in cm |
| --- | --- |
| 1 left | 13 - 15 cm |
| 1 right | 13 - 15 cm |
| 2 left | 15,5 - 17,5 cm |
| 2 right | 15,5 - 17,5 cm |
| 3 left | 18 - 20 cm |
| 3 right | 18 - 20 cm |
| 4 left | 20,5 - 23 cm |
| 4 right | 20,5 - 23 cm |