Available in beige or black colour. Closed toe.Normal length: 39 - 44 cm.
Colour: black or beige.
Compression stockings narrow the diameter of your leg veins. Through the support from the compression stockings, the venous valve system functions again – blood no longer accumulates in the legs. Stretch marks, spider veins and varicose veins become less severe or are prevented altogether.
There are four compression classes that are used depending on the severity of the disease. The basic differences are in the strength of the material, i.e. the pressure exerted on the veins.
Notice: Only the doctor can decide which compression class you require.
You should never wear compression stockings "off your own bat", as there are also contraindications to compression therapy. These are: advanced arterial occlusive disease, severe disorders of heart function, weeping skin diseases, severe disorders of nerve function in the arms and legs. Even in primary chronic rheumatoid arthritis, it is the doctor who should take the decision concerning possible therapy.
About Compression Class:
CCL 1 / Compression Class I : 18 - 21 mmHg -  Light compression for light pressure at the ankle. Suitable for tired, heavy legs, mild varicose veins or incipient varicose veins and slight swelling. Desirable for the prevention of varicose veins, for example in pregnancy or in standing and sitting occupations.
CCL 2 / Compression Class II : 23 - 32 mmHg -  Moderate compression for moderate pressure at the ankle. Used, for example, in severe varicose veins, legs that are often swollen, swelling following thrombosis (venous occlusion), after healing of small ulcers, in severe inflammation during pregnancy, after sclerotherapy or surgery, after superficial phlebitis.
CCL 3 / Compression Class III : 34 - 46 mmHg - Strong compression in chronic (persistent) venous weakness, after thrombosis (venous occlusion), where there are skin changes and after the healing of leg ulcers.
DUOMED is available only in CCL1 and CCL2.
Indications:
After sclerotherapy/surgery

Thrombosis (deep venous thrombosis, post-thrombotic syndrome) with tendency for slight oedema

Varicosis in pregnancy with tendency for moderate oedema

Inflammatory venous diseases (superficial thrombophlebitis, varicophlebitis) with tendency for moderate oedema.
According to the guidelines of the German Phlebology Society the following are considered to be absolute contraindications:
Advanced peripheral arterial occlusive disease

Decompensated heart disease

Septic phlebitis

Phlegmasia coerulea dolens
Relative contraindications:
Concomitant dermatoses

Intolerance to compression stocking fabric

Sensory disturbances of the limb

Advanced peripheral neuropathy

Primary chronic arthritis
medi assumes no liability as a result of any contraindicated use of this product.
Material Composition: Polyamide, Elastane
medi. Germany.
| Size | cB - circumference of ankle | cC - circumference of calf |
| --- | --- | --- |
| 2 | 19 cm - 21 cm | 28 cm - 34 cm |
| 3 | 22 cm - 24 cm | 32 cm - 38 cm |
| 4 | 25 cm - 27 cm | 36 cm - 42 cm |
| 5 | 28 cm - 30 cm | 40 cm - 46 cm |
| 6 | 30 cm - 32 cm | 42 cm - 50 cm |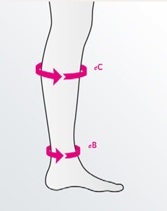 All measurement should be taken on the bare leg in centimetres. Ensure that the tape measure is snug but not too tight.
Measurements should be taken when the leg is rested and not swollen.
Please consider that selecting the right size is very important.