Duomed Smooth AD Below Knee Compression Stockings CCL2 medi
Shining beauty for your legs. Economic & trendy. Appropriate ​medical compression ​. Smooth, slightly shiny material.
The new duomed smooth combines medical effectiveness with stylish elegance. The soft knitted fabric hugs the legs, provides excellent wearing comfort and is gentle on the skin. With its slightly shiny look in the colours caramel and black, the compression stocking gives all outfits a classy look. Both at work and in free time, the duomed smooth is a reliable companion in vein therapy: it provides effective compression - and looks good at the same time.
Compression stockings narrow the diameter of your leg veins. Through the support from the compression stockings, the venous valve system functions again – blood no longer accumulates in the legs. Stretch marks, spider veins and varicose veins become less severe or are prevented altogether.
There are four compression classes that are used depending on the severity of the disease. The basic differences are in the strength of the material, i.e. the pressure exerted on the veins.
Notice: Only the doctor can decide which compression class you require.
You should never wear compression stockings "off your own bat", as there are also contraindications to compression therapy. These are: advanced arterial occlusive disease, severe disorders of heart function, weeping skin diseases, severe disorders of nerve function in the arms and legs. Even in primary chronic rheumatoid arthritis, it is the doctor who should take the decision concerning possible therapy.
About Compression Class:
CCL 1 / Compression Class I : 18 - 21 mmHg -  Light compression for light pressure at the ankle. Suitable for tired, heavy legs, mild varicose veins or incipient varicose veins and slight swelling. Desirable for the prevention of varicose veins, for example in pregnancy or in standing and sitting occupations.
CCL 2 / Compression Class II : 23 - 32 mmHg -  Moderate compression for moderate pressure at the ankle. Used, for example, in severe varicose veins, legs that are often swollen, swelling following thrombosis (venous occlusion), after healing of small ulcers, in severe inflammation during pregnancy, after sclerotherapy or surgery, after superficial phlebitis.
CCL 3 / Compression Class III : 34 - 46 mmHg - Strong compression in chronic (persistent) venous weakness, after thrombosis (venous occlusion), where there are skin changes and after the healing of leg ulcers.
DUOMED is available only in CCL1 and CCL2.
Indications:
Chronic venous disorders: C0s - C3 according to CEAP

Postoperative reperfusion oedema, post-traumatic, postoperative, occupational oedema, medicinally induced oedema

Oedema due to immobility

Initial phase following varicose vein therapy

Superficial venous thrombosis

Thrombosis prophylaxis in mobile patients

Inflammatory dermatoses of the legs

Nausea, dizziness in pregnancy
Medical compression clothing may not be worn if the patient has the following conditions:
advanced peripheral arterial occlusive disease

decompensated heart diseases (NYHA III + IV)

septic phlebitis

Phlegmasia coerulea dolens
In the following instances, the therapeutic decision should be made by weighing up the benefits and risks and by selecting the most suitable compressive equipment:
concomitant dermatoses

intolerance to compression stocking fabric

sensory disturbances of the limb

advanced peripheral neuropathy

primary chronic arthritis
medi. Germany.
Use it according to the instructions for use or label.
| Size | cB - ankle | cC - calf |
| --- | --- | --- |
| S | 19 - 21 cm | 28 - 34 cm |
| M | 22 - 24 cm | 32 - 38 cm |
| L | 25 - 27 cm | 36 - 42 cm |
| XL | 28 - 30 cm | 40 - 46 cm |
| XXL | 30 - 32 cm | 42 - 50 cm |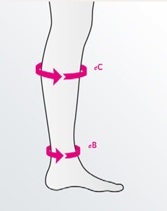 All measurement should be taken on the bare leg in centimetres. Ensure that the tape measure is snug but not too tight.
Measurements should be taken when the leg is rested and not swollen.
Please consider that selecting the right size is very important.