Cyclotest baby is your essential companion on your journey to successful contraception, using its high-precision temperature sensor to pinpoint the most promising days to have sexual intercourse in order to conceive.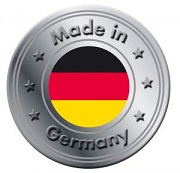 As small and as light as a mobile phone (8 cm x 10.8 cm x 3.3 cm), weighing 110 g and equipped with state-of-the-art fertility planning technology – this is Cyclotest Baby!
Cyclotest Baby is your essential companion on your journey to successful conception, using its high-precision temperature sensor to pinpoint the most promising days to have sexual intercourse in order to conceive. In this way cyclotest baby can significantly reduce the time you need to wait for conception and therefore bring you one step closer to parenthood. 
Cyclotest baby is easy and convenient to use:
immediately after waking up and before getting up, measure your BBT with the temperature sensor. Less than a minute to take your temperature, a short beep from the device, a glance at the fertility display and you can see your whole cycle predicted including your fertility window, the days when lovemaking could lead to pregnancy.cyclotest baby then goes even further and divides your fertility window into two phases, fertile and highly fertile!
Empowered with that knowledge planning your lovemaking to optimise the chance of successful conception is easy. It's not every day that a woman can get pregnant; instead this can only happen within a very short period of time during her fertility window around the time of her ovulation. It is however difficult to anticipate exactly when ovulation occurs, since it is unseen in the female body. Very few women ovulate regularly on the much-vaunted 14th day of the cycle. The female cycle and therefore the moment of ovulation are subject to numerous influencing factors, which means that ovulation is fundamentally unpredictible by simply counting the days of the month.Sexual intercourse shortly before ovulation is the most promising time to bring about pregnancy.
There are different methods which enable you to determine when you are ovulating:
observing subtle changes in Basal Body Temperature (BBT)

observing changes in hormone levels with the aid of ovulation tests

observing cervical mucusobserving cervix positioning
Cyclotest Baby predicts your imminent ovulation on the basis of your temperature you awake, also known as your Basal Body Temperature (BBT). A very subtle change of around a quarter of a degree occures just prior to ovulation which is the reason the temperature sensor integrated in cyclotest is very advanced and sensitive.In the mornings you simply measure your BBT with cyclotest baby immediately upon waking, after which you will see your fertility status displayed telling you whether you are at that moment fertile, highly fertile or non-fertile.Accuracy in pinpointing the absolute optimum day for intercourse leading to pregancy can be enhanced even further by using a cyclotest ovulation test (supplied seperatley) on the highly fertile days and entering a positive result into your cyclotest device. Collecting both BBT and ovulation test data makes cyclotest baby incredibly accurate.
Cyclotest Baby also enables you to create your own personal fertility profile. At no additional cost, cyclotest baby provides you with software used to create, store and print out your individual cycle curve. This feature can be very useful if any complications or delays arise in falling pregnant. Your gynaecologist will have a much easier time pinpointing a potential problem if your cycle curve is available. All you need is a PC with a USB port.
Safe, reliable and value for money:
Getting pregnant boils down to the right timing, because you can only get pregnant on a few days within your cycle. Many couples wait a long time in vain to get pregnant simply because they have sexual intercourse at times when the chances of getting pregnant are either very low or even nil.
Cyclotest Baby indicates the days when sexual intercourse has the greatest probability of resulting in pregnancy. As a cycle computer, Cyclotest Baby records your waking temperature and identifies the temperature increase that generally accompanies ovulation. Cyclotest Baby also indicates the days when carrying out ovulation tests would be useful so that a further indicator of fertility for imminent ovulation can be taken into account. This dual method enhances accuracy for forecasting your most fertile days. Carrying out and including the results of ovulation tests is optional - you can use Cyclotest Baby just to pinpoint your fertile days solely by measuring your body temperature.
 How to use cyclotest baby?
Immediately upon waking but before getting up, measure your Basal Body Temperature (BBT). You do this by placing the temperature sensor in one of the pockets under your tongue, then press the large round button and wait until the unit beeps. Done! cyclotest baby indicates one of three possible fertility statuses. Directly after measuring you can read off in the display whether you are at that moment fertile, highly fertile (immediately before ovulation) or non-fertile.You can also enter the results of ovulation tests or record observations of cervical mucus. Baby symbols indicate when your fertile or highly fertile phase starts. When the highly fertile phase is indicated in the fertility display, it is possible with the aid of cyclotest ovulation tests to detect the ovulatory hormone LH (luteinising hormone) and thus determine your optimum time period for conceiving.

Cyclotest baby measures your body temperature with a high-precision temperature sensor which meets the highest standards. Its velvety soft coating and flexibility enable you to place the sensor in the optimum position under your tongue and ensure a pleasant feeling in your mouth during the measurement.

Is Cyclotest Baby right for you?
It has been developed for those women that have decided that now is the right time to have a baby. It helps, on the basis of temperature readings and observational data, to identify the best time to have sexual intercourse in order to get pregnant.
After pregnancy and the arrival of the baby, cyclotest's incredibly accurate identification of fertile and infertile days can continue to be used as the ideal form of natural contraception.For women who are taking hormonal contraceptive pills immediatley prior to making the switch to cyclotest baby, two complete menstrual periods should pass before begining use. This is to allow the body's natural rythym to return after it's hormonal suppression.cyclotest baby is not recommended to be used by those who work irregular hours (shiftwork), since temperature readings have to be taken regularly in the mornings within a window of 4 hours.