Thumb brace Ligaflex Rhizo Thuasne
Thumb brace with patented reinforcement of metal wiring, which immobilizes the thumb in a painless position. Light and comfortable.
Ligaflex® Rhizo - Static thumb splint in analgesic position
Attributes:
Immobilisation splint holding the thumb in an analgesic position.
Product that fits the contours of the thumb perfectly due to wire stays with a spring effect.
Comfortable product thanks to the Zirtex® fabric at the thumb: thermal barrier, moisture-wicking.
Inner lining in Thermytex fabric: breathable and antibacterial.
Two Velcro straps for easy fitting of the product.
Indication
Immobilisation of the trapeziometacarpal joint in early osteoarthritis of the thumb.
Pain at the base of the thumb.
Peri-scaphoid joint disease.
Surgery for fractures at the base of the 1st metacarpal bone: Rolando or Bennett's fracture.
Usage hints
1 - Open the wrist straps.
2 - Slip the thumb into the splint.
3 - Adjust the wrist strap, pulling it through the tightening loop.
4 - Adjust the thumb strap.
In the event of discomfort, the stays can be shaped to fit the thumb web space.
Care hints
Do not use detergents, fabric softeners or aggressive products
(products containing chlorine)
Squeeze out excess water.
Dry away from heat sources.
Models: right or left.
Size: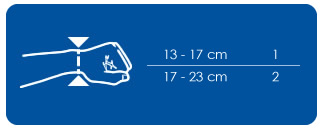 Use it according to the instructions for use or label.
| Size | Wrist circumference in cm |
| --- | --- |
| 1 left | 13 - 17 cm |
| 1 right | 13 - 17 cm |
| 2 left | 17 - 23 cm |
| 2 right | 17 - 23 cm |