Centri Dynamic Walk Standard Foot Drop Brace For Driving
825,00 EUR
Dynamic Walk is a unique dorsal extension orthosis which is recommended for patients with peroneal paralysis. Its double sided PEEK design and component materials provide stable free movement and constant lifting of the foot. Its lightweight construction, unique design and component material allow activites such as running, driving and climbing stairs. It combines ease of use with high-function like no other product on the market.
 
 Features:
Recommended for patients with peroneal paralysis,

Lightweight,

Open heel,

Fits easily into normal shoes,

High strength,

Flexible,

Laterally stable,

Allows for everyday activities.
Materials:
Thermoplastic carbon fiber

PEEK rods
The Dynamic Walk is made of Comfil® Thermoformable Composite material. The Comfil® material combines the high localized strength of carbon composite with the modeling properties of thermoplastics. This allows the practitioner the opportunity to adjust the orthosis to the patient´s needs by simply using a heat gun and pressure.
To reshape:
Spot heat the carbon fiber with a heat gun up to 120° (higher temperatures will cause  delamination)

Do not heat and reshape the PEEK rods or the area where the PEEK attaches to the carbon fiber 
Padding (bought separately):
Washable- Lycra & polyether
Shoe selection:
Laced with a firm heel

 Removable insole
We recommend stable shoes with firm heelcap and laces or velcro. If the Dynamic Walk is used with unstable shoes that cannot be tightened properly you will diminish the function of the orthosis.

Warranty: 12 month warranty

NOTE: padding is sold separately.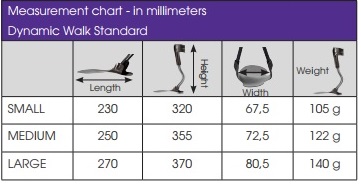 When ordering please note that you have to order the padding separately.
Centri. Sweden.
| Size | Length | Height | Width | Weight |
| --- | --- | --- | --- | --- |
| S | 230 mm | 320 mm | 67, 5 | 105 g |
| M | 250 mm | 355 mm | 72,5 | 122 g |
| L | 270 mm | 370 mm | 80,5 | 140 g |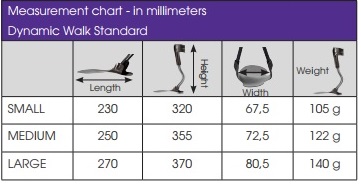 2017-05-29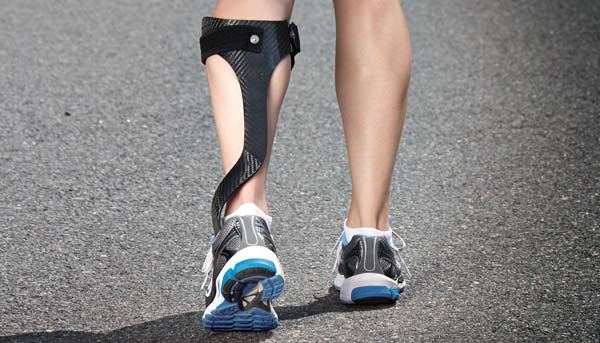 Foot drop is one of most disturbing injuries that someone can experience. Person that is not able to make comfortable steps will suffer in every day to day activity. There are many reasons behind this kind of injury. Physical damage, stroke, brain injury are most popular causes. When our walk is much harder than it should be we can apply help such as a carbon fiber foot drop afo brace. Let's see how those smart inventions can help us in our day to day living.