medi Genumedi patella knee active support brace
Non-slip performance improves joint function,provides active muscle stabilisation and relives the kneecap.For greater mobility i the long term.Knee support with patella silicone ring. Colour: silver.
Genumedi by Medi
Colour: dark grey
Indications:
slight instability of the knee joint,
patello femoral pain syndrome,
damage to the meniscus,
osteoarthritis and arthritis,
patella chondroplasty,
chronic post - operative and post-traumatic inflammation,
articular effusions and swellings,
Features:
highly elastic, breatheable and moisture - transporting Clima Comfort fabric,
non-slip system with textures silicone running medially and laterally,
specially designed silicocne ring enclosing the patella,
Mode of action:
the seamless, tailored knee support improves prorioception and improves musculat support ( stabilisation of the knee),
the massage effect achieved by the compressive fabric and silicone insert improves the blood circulation and aids absorption of haematomas and oedemas.
Made in Germany.
Use it according to the instructions for use or label.
| Size | D circumference in cm | F circumference in cm |
| --- | --- | --- |
| 1 | 25 - 28 | 37 - 40 |
| 2 | 28 - 31 | 40 - 43 |
| 3 | 31 - 34 | 43 - 46 |
| 4 | 34 - 37 | 46 - 49 |
| 5 | 37 - 40 | 49 - 52 |
| 6 | 40 - 43 | 52 - 55 |
| 7 | 43 - 46 | 55 - 58 |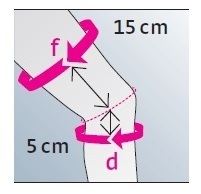 Size chart:
F - Circumference of thigh 15 cm above the centre of the patella ( measured at the medial side of the thigh)
D - Circumference 5 cm below the centre of the patella ( measured at the medial side of the lower leg)