Knee braces for Osteoarthritis
2019-06-13
Globally, osteoarthritis is the most common joint desease among adults and the number of people concerned is forecast to rise.
Osteoarthritis is usually accompanied by pain, movement restrictions and a feeling of stiffness. This can lead to a "downward spiral", because pain in the affected joint limits patient's mobility. Therefore, patients will need significant pain relief and more mobility in everyday life. Accordingly, movement plays a central role in the treatment of osteoarthritis.

Knee braces for Osteoarthritis
Knee braces for osteoarthritis  are an effective alternative to knee joint replacement and pain relievers. In order to actively support patients in their everday life, medical aids have to relieve pain effectively, be easy to use and offer a high wearing comfort. These requirements have been incorporated in the development of the new medi OA therapy concept in order to individually support your patients.
Effective relief ~ less pain ~ more mobility
The Osteoarthritis Research Society International (OARSI) recommends use of knee braces in their guidelines for the non-surgical management of
knee osteoarthritis.Reviews show that knee braces are effective in decreasing pain, joint stiffness, and drug dosage and also improve physical function.
Osteoarthritis is often caused by a leg deformity and the corresponding mechanical loading.A study by Ralf Müller-Rath has proved the practical application of the M.4s OA knee off-loading brace for osteoarthritis of the knee. The orthosis, worn for 16 weeks, demonstrably relieved pain and improved the patient's mobility and gait. The "downward spiral"was halted and patients benefitted from a better quality of life.


Offloading knee braces verifiably increase mobility and reduce pain

The study shows the positive effect of M.4s OA after 16 weeks:



Knee Brace Test prior to HTO
High tibial valgus osteotomy (HTO) is an established treatment option for varus gonarthrosis. A valgus knee brace results in a reduction of medial compartment loads
and has an effect comparable to HTO. The study by Minzlaff using the M.4s OA knee brace showed that the Brace Test seems to be well suited to predicting postoperative
pain reduction in patients with borderline indication for valgus HTO. The brace treatment resulted in a sigrnficant pain reduction in the medial compartment.
Some patients continued the brace treatment after finishing the test.

Patients say ...
One of the most persistent myths is: soft supports and braces often only lie around in the cupboard,because patients hardly ever wear them.
Surveys show: the opposite is true! The Institute for Demoscopy in Allensbach, Germany investigated how intensively soft supports and braces are actually used. Furthermore, 435 wearers of soft supports and braces were asked whether the medical device had changed their sensitivity to pain.

The result:
Patients regularly wear soft supports and braces.

The medical device had helped their treatment considerably.

Soft supports and braces had reduced or stopped the consumption of painkillers.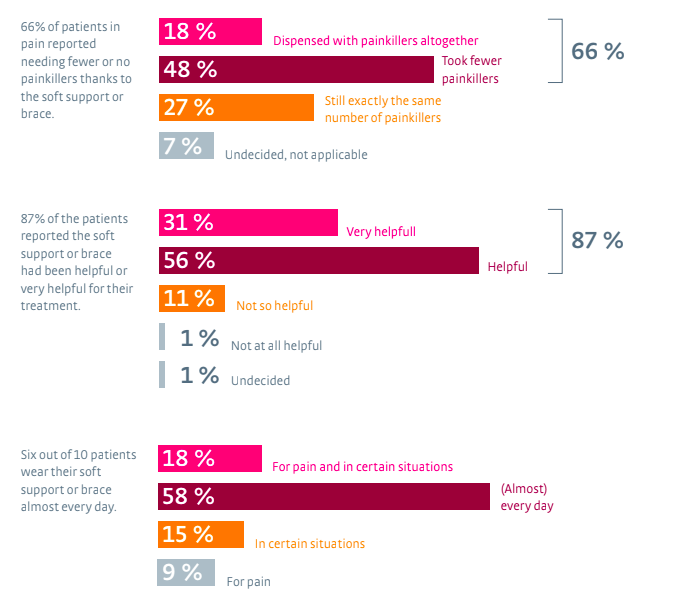 The comprehensive medi OA therapy concept
medi is planning for the future with holistic patient management concepts. This enables the therapy of a wide range of clinical pictures to be supported with medical devices and the suitable service offers from medi – at almost every stage and for virtually every indication.Thus medi offers valuable support in everyday patient care from the very first diagnosis to long-term therapy and promotes patient self-management. The new therapy concept combines highly effective products and measures that promote patient compliance – for significant relief and more quality of life.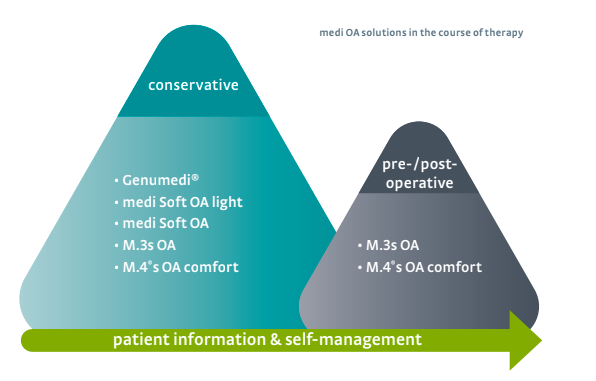 Conservative orthotic treatment
A major focus in the conservative treatment of osteoarthritis is the relief and stabilisation of the knee joint. By the use of offloading braces a stabilisation and a correction of a varus deformity (bowed leg) or valgus deformity (knock-kneed) of the leg can be achieved. The stress on the affected region of the knee can thereby be reduced, resulting in a reduction of pain and improvement of joint funtion for the patient.


Products:
Pre-operative / post-op orthotic treatment
Dependent to the stage of the disease and patient specific factors, an operation should only be considered n cases where conservative treatment
cannot restore analgesia and mobility sufficiently.The high tibial osteotomy (HTO) is an adequate surgical option in the treatment of osteoarthritis.
The temporary use of an unloading valgus producing knee brace may well predict future outcome of HTO surgery in predicted of expectable post-operative
pain relief. After cartilage surgery with required post-operative relief of the medial or lateral compartment, which can be achieved by the use
of an offloading brace.

Products: