Medela Vario Reusable 1 l set with PSU suction jar
1 pc of reusable 1 l set with PSU suction jar
Reusable 1 l set with PSU suction jar.
Autoclavable jars and lids collect secretions easily and economically.
Reusable Collection Systems. Simple and Durable.
Medela Reusable Collection System consists of various autoclavable PSU suction canisters and lids with integrated overflow protection. Four different canister sizes: 1000, 2000, 3000 and 5000cc's, share one lid size to make handling easy and reduce logistical efforts.
Flexible system with multiple components and accessories.Canisters made of high-grade, shock-resistant polysulphone.Graduated markings to indicate fluid volume.Uniform lids fit to all canister sizes with mechanical overflow protection integrated in lid.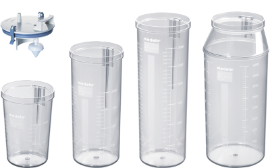 Use it according to the instructions for use or label.