Orthopedic Pillow Deluxe incl. pillow cover Sissel
The wider pillow, adjustable in height! 16 cm wider than the SISSEL® Ortho pedic Pillow PLUS. Made from visco-elastic foam. Adjustable in height by adding or removing the Vario Pad.
Size: approx. 63 x 33 x 10/12 cm
Pressure relieving pillows (visco-elastic foam).
Pillows made of pressure relieving foam absorb pressure and transfer it downwards to the interior. The foam adjusts slowly to any shape and the pillows are recommended for use in cases of health problems with pressure sensitive muscles.
Features:
special foam has a delayed elasticity effect, which aids tension-free sleep

adjustable in height by adding or removing the Vario Pad, 2cm in height

complete with luxurious satin striped cover
Recommended for:
acute problems with neck and back muscles.

pressure sensitive muscles.

a specific support for neck, back and shoulder problems.
5 years warranty on the shape stability of all Sissel Orthopedic Pillows, Sissel Medi Support, Sissel Sit Special 2in 1, Sissel Sit Ring and Sissel Back. Each product is carefully selected and produced under the highest quality standards, exclusively in Sweden, the origin of the SISSEL® brand. Environmentally conscious production techniques, the use of sustainable materials andmaximum innovation included. That's the "Swedish Difference", which makes Sissel products special.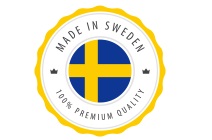 Use it according to the instructions for use or label.