Walking and Sitting Hip Orthosis SWASH 123 degree uprights Camp Scandinavia
Walking & Sitting Hip Orthosis S.W.A.S.H.® The hips are flexed to assume the sitting position, it automatically further abducts the hips to create a tripod base for enhanced sitting stability and more upright posture.
Sitting Walking And Standing Hip orthosis.
Primary development goals of the SWASH®:
. Increase abduction and stretch hip adductors to improvehip alignment

Prevent excessive adduction during sitting, standingand walking

Optimize sitting and standing posture

Achieve the above goals with an automatic transitionfrom neutral (walking, standing) to abduction (sitting)
The most visible benefits of the SWASH® are improvementsin sitting and standing posture and stability, and for theambulatory user, improvement in gait. The benefits can beimmediate and are often dramatic. Continued improvementsmay be seen after the wearer has become acclimatized tothe orthosis.Given the visible benefits, perhaps the most importantbenefit the SWASH® offers is its influence on hip stability.The very nature of high adductor tone places dislocatingforces on the hips. The internal rotation and adductionforces leave hips at risk. Data shows that ambulatory childrenwith CP have a 30% incidence, and non-ambulatorychildren have a 60% incidence of hip subluxation requiringmedical intervention.
Indications:
Spastic Hemiplegia

Spastic Diplegia

Spastic Quadriplegia

Risk of hip displacement (both ambulatory and non-ambulatory)

Low trunk tone (may require customized combination

with spinal jacket).

Post-BotulinumToxin A (Focal spasticity management).

A three year, randomized multi-centre trial withconcealed allocation to either BTX-A and bracing

and/or observation concluded: "Injections of BTX-A

combined with SWASH® bracing reduces the rate ofhip displacement and delays the need for orthopaedicsurgery".

Post-operative - For stabilization when abduction in

both flexion and extension is required.

Night Splint - This application can be especially useful ifthe child spends the first two or three hours of the dayovercoming muscle shortening that occurred during sleep. It is recommended to first allow the child to become accustomed to wearing the brace during the day.
Contraindications:
Dislocated hips

Fixed hip flexion contracture greater than 20°.There are no finite guidelines for use with non-fixed f

lexion contracture - this generally is dependenton wearer tolerance.

Adductors so strong they overpower the SWASH®uprights (SWASH® Low Profile has larger diameterand therefore stronger uprights.)

Adductor length so short it causes discomfort withSWASH® use in the sitting position

If ambulatory, excessive tibial torsion or foot

involvement, without physician assessment of impact SWASH® impacts on these conditions.
Precautions:
In patients with shortening of hamstrings, psoas,adductors, or Achilles tendon, great care should be taken when planning the orthotic and therapy program.

SWASH® is not a treatment for hamstring tightness. If current therapy protocols include exercises to relieve hamstring tightness, it is important these exercises be continued as hamstrings will not be stretched in the SWASH®. Hamstring tightness should be monitored ona regular basis. Any signs of increased tightness should be specifically addressed.

SWASH® does not eliminate the need for AFOs.Particularly for the ambulatory wearer, it is important to re-evaluate the AFO design as the needs may change as a result of the new stance and gait patterns that will result from wearing the SWASH®.

SWASH® does not replace rehabilitation or the

therapist. It does help overcome some of the major consequences of high adductor tone and therefor eallows more specific and functional rehabilitation.

Patients with spinal asymmetry or deformity may be

 unable to wear the SWASH®, or may require that the orthosis be incorporated into a custom body jacket.

With time, for some wearers,spasticity of the adductors may reduce either due to wearing the orthosis or

BotulinumToxin A (BTX-A) injections. It is importanton a regular basis to review the amount of abduction correction needed to maximize hip alignment and functional goals.
Limitations:
The SWASH® is not a cure-all for all postural problems.New movement and postural motor control patternswill have to be learned and gained. The SWASH® is seenas a device to facilitate these gains.

 If patients cannot walk at all without the SWASH®, it is highly unlikely they will be able to walk with theSWASH®.

Even with the SWASH® in use, there may be residual internal rotation of the lower extremities. Very often,unless there are internal tibial torsion or metatarsus adductus issues, the medial hamstrings have been seento exert this internal rotary influence. An aggressive stretching program of the medial hamstings has been seen to minimize this residual internal rotation.
What makes SWASH unique to other hip orthoses is that it offers controlled variable abduction.
Although it looks like a simple device, it is engineered with a complex series of angles to maintain good hip alignment as the uprights follow the pathways of motion of the femurs. While standing or walking, SWASH provides just enough abduction to prevent scissoring and medial femoral rotation. As the hips are flexed to assume the sitting position, it automatically further abducts the hips to create a tripod base for enhanced sitting stability and more upright posture.

without SWASH         with SWASH
The most visible benefits of the SWASH are readily apparent by improvements in sitting and standing posture and stability, and for the ambulatory user, improvement in gait. However, perhaps the most important benefit the SWASH offers is the improvement in hip alignment.
S.W.A.S.H.® Original features:


Plastic pelvic section extends from L2/L3to the coccyx, providing maximum torsosupport for candidates with flaccidity orvery limited trunk control

Single strap fixed front closure to securetorso support

6 mm (size1) and 7 mm (sizes 2-4) diameter uprights

increased posterior and side support

proven results in several different independent studies

"Childproof" thigh cuff closure
Less abduction:
Reduced abduction better accommodates wheelchairs with narrow seat structures and is better tolerated by children with tight adductor muscles. With a more upright posture and increased sitting stability, often the hands will now be free for activities instead of balance.
More abduction:
Increased abduction offers maximum opportunity for muscle lengthening in the sitting position, and is also recommended when there is need to influence the trunk toward more spinal extension. With a more upright postureand increased sitting stability, often the hands will now be free for activities instead of balance.

115 or 123 Degree Uprights?
SWASH® is available with either 115° or 123° uprights. This refers only to the fixed angle of the most proximalvisible curve in the uprights – it does NOT refer to theexact degree of abduction obtained while wearing theorthosis.Standing and walking functions of both uprights are verysimilar. Generally the differences between the two arerelated to sitting function, with the 123° uprights creatinggreater amounts of abduction and the 115° uprights creatingrelatively smaller amounts of abduction.
NOTE: In sitting, the 123o uprights will have a greater influence towards posterior pelvic rotation, thereby increasing the flexion influence on the trunk.The selection of the 115 or 123-degree uprights does have an affect on the postural out come of the fitting.
Size chart: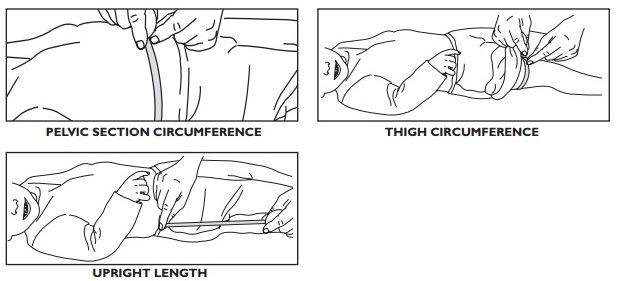 Pelvic section circumference: At level of the anterior superior iliac spine (ASIS).
Thigh circumference: Distal thigh, just proximal to the condyles. When fitted, theends of the thigh cuffs should almost meet (to allow forgrowth).
Upright length: Distance from waist to mid-patella with knees extended.
Upright diameter: For SWASH® Classic only, size 1 uses 6mm diameter uprights and sizes 2, 3, and 4 use 7 mm uprights. All sizes SWASH® LP II use 8 mm diameter uprights.
Level of function and tone (not just the size chart) should be evaluated when selecting the proper diameter upright.
Sizing guide.
Use the table below to select the largest size that will fit the child, based on the measurements, to allow optimum room for growth.
Keep the following in mind:
The plastic on the cuffs and the pelvic band (SWASH®Classic only) may be trimmed, if necessary.

The pelvic band on SWASH LP II may be shaped to fits lightly larger or smaller pelvic circumference.
Interchange ability of Components:
For SWASH® Classic: All components on sizes 2, 3, and 4 units are modular and interchangeable. A size 1 thigh cuff is available for a size 2 upright (size 1A).

For SWASH® L.P II. : All components are interchangeable between sizes.

SWASH Classic and LP II components cannot be combined.

The uprights almost always require trimming (after final fitting approval) so that the distal tips are level with the bottom of the cuff padding.
---
Guidelines for Product Selection The following are offered as general guidelines only.
When possible, it is recommended to try each style on the patient to best assess which offers optimum function.
Swash Classic
Swash Low profile

When maximum trunk control is requires,

for the candidate who lacks muscle strength

or upper body control to sit upright.

When the primamry goal is to control scissoring gait

and the posterior joints on the SWASH Classic interfere

with posterior walker and new walker is not an option.

 When patient is primarily non-ambulatory ( GMFCS IV-V)

 When wearer has limited space between

the iliac crest and the rib cage.

 When a smaller diameter ( 6mm) uprights on the size I

are desired to perit less restriction of movement.

 When maximum upright strength is required to manage adductor zone.

 When the greater pelvic coverage area triggers

more desirable neuro-sensory motor response.

 When candidate and/ or caregiver acceptance of "bracing" is an issue,

the Low profile II is more cometically acceptable to some.
| Size | Pelvic section | Thigh cuffs | Upright Diameter | Upright Length |
| --- | --- | --- | --- | --- |
| 1 | 400-465mm /14 3/4-18 1/4in | 210-250mm / 8 1/4-9 3/4in | 6mm | 310mm / 12 1/4in |
| 1A | 400-465mm / 14 3/4-18 1/4in | 210-250mm / 8 1/4-9 3/4in | 7mm | 310mm / 12 1/4in |
| 2 | 460-550mm / 18-21 3/4in | 250-290mm / 9 3/4-11 1/2in | 7mm | 375mm / 14 3/4in |
| 3 | 540-630mm / 21 1/4-24 3/4in | 290-330mm / 11 1/2-13in | 7mm | 440mm / 17 1/4in |
| 4 | 620-720mm / 24 1/2-28 1/4in | 330-380mm / 13-15in | 7mm | 480mm / 19in |
PELVIC SECTION
Measure:
SWASH CLASSIC - At level of the (ASIS).
SWASH LOW PROFILE - At level between crest of ilium and ASIS. Ideal is to fit the orthosis at midpelvic girdle to obtain firm grasp and control of the pelvis. Depending on anatomy, final fitting location may vary from just below the waist (navel) to mid pelvic girdle.
THIGH CUFFS:
Measure at distal thigh, just proximal to the condyles. Ideal is to fit the cuffs as distal as possible without creating pressure or interference in the popliteal area. However, pressure on the thorax, excessive spinal flexion, or discomfort due to hamstring tightness, may be relieved by moving the cuffs up 1 - 3 inches.
UPRIGHTS
Measure waist to mid-patella. At final fitting, should be shortened to level of distal thigh cuff padding.
115 = narrow sitting base
123 = wide sitting base